Thanks to all who sent the following link and photo of an elaborate prank played on the Domers (JEEZ I HATE THESE GUYS!). It appears to be an after hours covert operation that involved a lot of coordination and speed. The MMQ has few of these type of endeavors under his belt from his high school days…. And while I believe it was in good taste and more or less, "Tells it like it is, DOMERS" you all know that the MMQ likes to do his bragging AFTER the fact, as show
here
,
here
,
here
and
HERE…..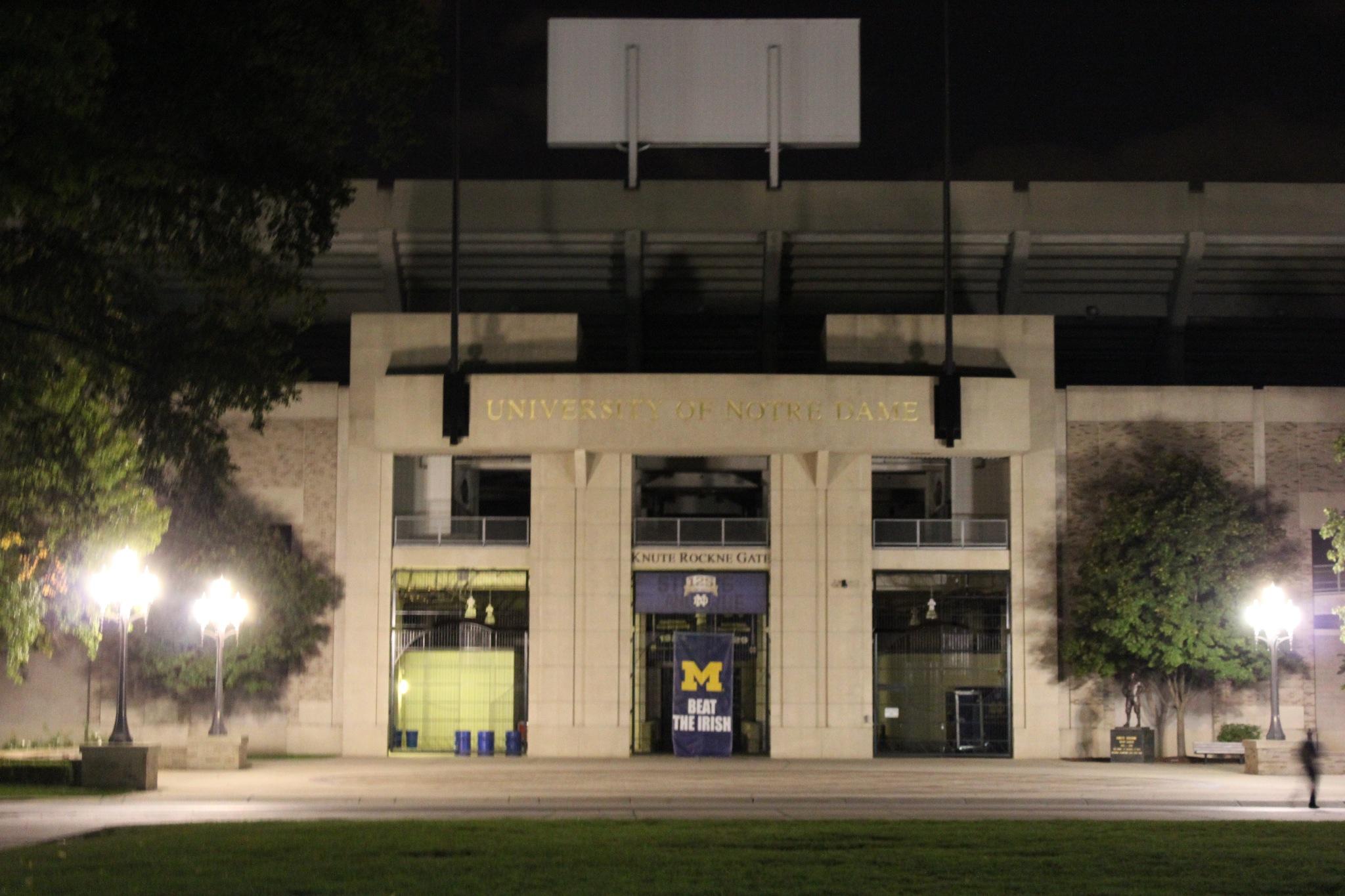 I was a little surprised at some of the feedback I received on last Friday's post. Some took the time to state that the Domers playing 5 ACC games wasn't that big of a deal considering that two of the teams the Domers had been playing regularly in the BEast are now moving to the ACC (Pitt and Syracuse). While I can't ARGUE that, the point is that the Domers now have 5 games against members from a conference. So they can be tied into that conferences bowl agreements. Plain and simple, the Domers were getting screwed out of decent (read: Better Paying) post season matchups when they had an 8-5 or better record. $warbuck$ saw that money on the wall and simply made an easy decision that kept a majority of the "Independent" bandwagon drum beating people happy and got him what he wanted: Better late season scheduling and the opportunity to play on New Year's day with a 3 or 4 loss season.
Full conference alignment won't happen right away. I would say when the next Domer NBC contract expires will be about the time that ESPN will pony up for the ACC games that have the Domers as an opponent and the deep pockets of ESPN will be no match for NBC. Then, ESPN will dictate, "Well, we need more Domer content." And the ACC will give a measurable amount to the Domers for a certain period and then it will be over. Domers are in the ACC. It's kind of like pulling a band aid off real slow. It hurts all the way but in the end, the band aid is off and you start feeling better.
Anyway, enough about that nonsense and on to the more important issue:
The Game.
Michigan holds a 23-15-1 series advantage. This will be only the 40th meeting of these two schools. Shocking, in a way. Kind of like last year's 24-7 come from behind victory with 28 - count em – 28 4th quarter points scored by the Maize and Blue… I hope Michigan can make it 24 wins tomorrow and let the groaning and pining for "Wait till next year!" cries to begin in South Bend! We've stolen 3 in a row and the last 5 out of 6. The odds are against Michigan, but I like their chances.
As for last week's results, I'm a little gun shy about laying points other than in the most "lock" circumstances. And this week's picks, with the exception of 1 game, will show that. I wish they had a money line in college football.
This Week's Picks:
LSU (-18.5) @ Auburn:
I have been burnt so much by giving points lately that you'd think I would have learned my lesson by now. Nope. Sometimes, it works! You just have to know which teams to like to cover. And I like Les in an SEC West showdown:
Take LSU and lay the 18.5 for $30
Arizona (+24) @ Oregon:
Do I believe in The Rod or don't I? I believe that Rich Rod did everything he could to win at Michigan. Biggest problem was he didn't pay nearly enough attention to the defensive side of the ball. Scoring points, not so much of a big deal. Arizona getting 24 in Autzen sounds like enough, assuming the Wildcats can keep it close.
Take Arizona and the 24 for $50.
Kansas State (+14) @ Oklahoma:
I should lay off this game, I really should. But looking at K-States stats leads me to believe that they could hang with the Sooners here. But after last week, who knows?
Take K-State and the 14 for $30
Clemson (+14) @ FSU:
I believe FSU is the ACC team to beat this year. But Clemson, a 14 point dog in an ACC match-up? Really? I guess Dabo will have a lot of motivation this week and like I said, I'm taking dogs and points where ever possible this week.
Take Clemson and the 14 for $40
Michigan (+7) @ Domers:
I'm glad I jumped on this spread on Monday as the line has moved 2 points down to 5. Which means there's a bunch of wise guy money that believes Michigan and the points in this game is a good thing. Last 3 games have been decided by a total of 12 points. Look for an OT game with the possibility that Michigan comes out on top with a successful 2 point conversion. There will be mass Domer suicide afterwards in the form of alcohol consumption all over the campus and town of South Bend.
Take Michigan and the 7 for $60
PARLAY!
3 Team Parlay pays 6 to 1.
Michigan – Clemson-Arizona for $20
Starting Bank: $827
Total Bet: $250
Bank: $577